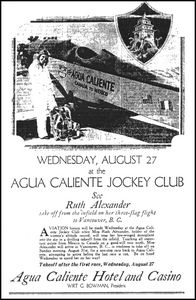 Advertisement for Agua Caliente Resort

Wealthy Investors in Talmadge Park
In 1933, the two lots next door, 60 and 61, would be the home of subdivision owner Roy Lichty. Lot 63 would become a National Register Landmark, a house built by Cliff May, son-in-law of Roy Lichty, who married Lichty's daughter Jean.

The deeds make it clear that ownership of Lot 53 was held by the Bowman's along with two other lots, 62 and 63.

The Bowmans, incredibly wealthy and influential San Diegans, with residences elsewhere in the city, were financially capable of building on the lots should they have wanted to. More importantly, they were financially capable of not building on the lots, should they have wanted to. And that is exactly what they did from 1927 until 1932. The status of the lots did not change until 1932, during the hard times of the Great Depression.

The deeds show that in 1932 the Bowmans shifted their personal San Diego real estate holdings en masse over to a corporate entity, the Wirt G. Bowman Investment Company, Inc. on April 11, 1932. Articles of Incorporation show that it was a newly formed entity, with papers filed with the State of Arizona on April 6, 1932 (San Diego Historical Society #150488). In August, the Bowmans then sold their three Talmadge Park lots, along with other holdings, to Edward S. Bernard, who was the manager of the U.S. Grant Hotel.

Wirt Bowman's obituary in the San Diego Union on 4/21/1949 begins with:

"Financier Whose Life Along Border Became Saga of West Passes at Tucson. One of the big three who built and operated the fabulous Agua Caliente resort below Tijuana, died yesterday in Tucson, Ariz. He was Wirt G. Bowman, 75, friend of notables, a political power for many years in Mexico, through the connections with revolutionary leaders, and a man who reportedly often handled millions of dollars in gold like some men push poker chips. Mr. Bowman owned and operated the old Foreign Club in Tijuana, at one time a big gambling club, and later joined with Baron Long and James N. Crofton in spending $5,000,000 in building the Agua Caliente resort proper. Later, they built the race track, with its $100,000 Agua Caliente handicap, added a golf course and posted the then world's richest golf purse, $25,000.

MONEY FLOWED IN. Money came in torrents from Americans, mostly from Hollywood. The golden flood lasted from 1928 until 1935, when all gambling was abolished in Mexico on order of then President Cardenas. Another investor in the resort was Gen. Aberlardo Rodriguez, a former president of Mexico and later governor of Sonora. Mr. Bowman and Rodriguez withdrew from the Agua Caliente setup a few years before it was closed. Mr. Bowman's first wife died in the 1930s when they resided in Palm City."