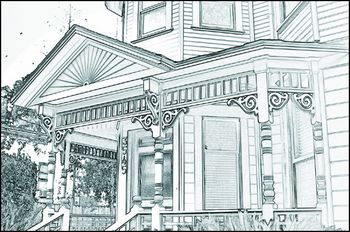 A Victorian with a Painted Past

SURVIVAL OVER A CENTURY
Despite Coonley's profession as a photographer, no historical photographs were found for this residence either from his period or from later periods to reveal the original appearance of the house, which apparently differs significantly from its "Victorian" façade of today. A remodel by former owners indicates that a turret was added from the foundation up and a dormer and wrap-around porch added between 1989 and 1991.

In 1991, the now handsomely reconstructed house was used in the mystery movie, Writer's Block, which starred actress Morgan Fairchilde. Later, the house was used in the introduction of the late night TV crime/action series, Silk Stockings, which ran from 1991-1999. The resulting residence today is a well-maintained, beautifully landscaped house, reconstructed to fit into the setting of the neighborhood, although not to reflect the house's original historic form or design. The historical importance of this house lies primarily in its association with its past owners, rather than its architecture. In time, the modifications that have been made to this house may attain architectural significance in their own right, thus adding another dimension to the history of this interesting house.